1. This Is The New Year - A Great Big World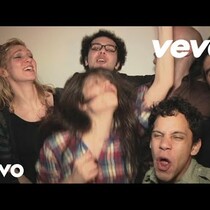 Posted December 20th, 2013 @ 6:41am
As 2013 comes to a close I've decided to pick out my 25 songs that I love and people should know better. These aren't necessarily my favorite songs of the year, but they're songs I feel like deserve more love.
1. This Is The New Year - A Great Big World


Here's a recap of the whole list. Have a great holiday!!!!!! I'll see y'all for New Year's Eve!
25 SHE WOLF - David Guetta f/ Sia
24 SPECTRUM - Zedd f/ Matthew Koma
23 AMERICAN GIRL - Bonnie McKee
22 TURN AROUND - Conor Maynard f/ Ne-Yo
21 WHAT NOW - Rihanna
20 TAKE ME HOME - Cash Cash
19 I CHOOSE U - Timeflies
18 ENDLESSLY - The Cab
17 CHLOE - Emblem3
16 A MILLION LIVES - Jake Miller
15 POWER - Kat Graham
14 BEST SONG EVER - One Direction
13 SOMEBODY LOVES YOU - Betty Who
12 A CAPELLA - Karmin
11 YOU NEED ME, I DON'T NEED YOU - Ed Sheeran
10 THIS IS WHAT IT FEELS LIKE - Armin Van Buuren f/ Trevor Guthrie
9 LA STORY - Sammy Adams f/ Mike Posner
8 GIVE ME YOUR HAND - The Ready Set
7 JUST A FOOL - Christina Aguierla f/ Blake Shelton
6 THE WAY IT USED TO BE - Mike Posner
5 GLOWING - Nikki Williams
4 BEST I EVER HAD - Gavin DeGraw
3 PEOPLE LIKE US - Kelly Clarkson
2 WILD - Jessi J f/ Big Sean
1 THIS IS THE NEW YEAR - A Great Big World