Courtesy WCVB
Health officials are advising the public to throw away any and all romaine lettuce that might be in their kitchens.
The rush to dispose of the food stems from the possibility it's been contaminated with E. coli, according to the Centers for Disease Control and Prevention.
So far, the CDC reports, at least 32 people have contracted E. coli in 11 states.
The health alert spans across the following states as a precaution: California, Wisconsin, Michigan, Ohio, Maryland, Illinois, New York, New Hampshire, Massachusetts, Connecticut and New Jersey.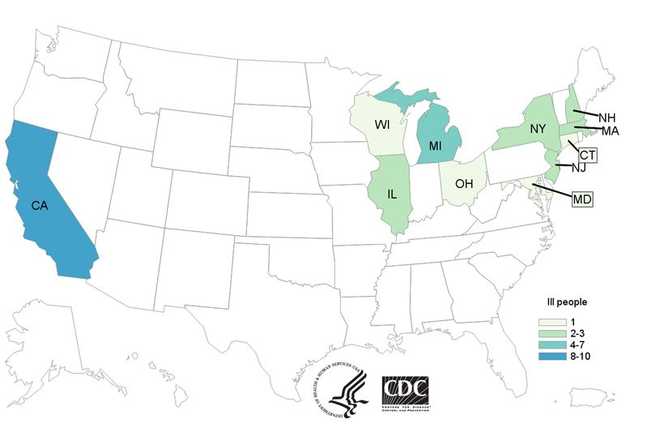 Centers for Disease Control and Prevention
Romaine lettuce, whether it be raw or included in a salad mix, seems to be the root of the issue. Federal authorities advise everyone to throw away any version of the lettuce and clean the area where it was residing, as a result.
The Food and Drug Administration said it's working with officials in Canada, where people are also being warned to stay away from romaine lettuce. The strain identified is different than the one also linked to romaine lettuce earlier this year, but it appears similar to one linked to leafy greens last year.
FDA Commissioner Scott Gottlieb said the agency doesn't yet have enough information to request suppliers issue a recall. But he said suppliers can help by withdrawing romaine lettuce products until the contamination can be identified.
No deaths have been reported. The last illness was reported Oct. 31.