Dunkin' Donuts Testing New $2 Snack Menu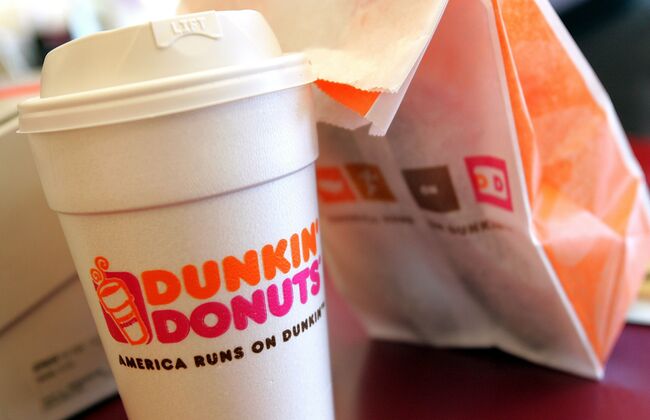 Dunkin' Donuts has begun testing a number of new menu items at select regional locations.
From sweet treats like Muchkin Dippers and a Gluten Free Fudge Brownie to savory options like Ham & Cheese Rollups and Pretzel Bites, Reddit user rsoxgal36 reports that at least one local Dunks has the new $2 snack items.
The unconfirmed menu additions consist of:
Munchkin Dippers
Ham & Cheese Rollups
Gluten Free Fudge Brownie
Pretzel Bites with Honey Dijon
Waffle Breaded Chicken Strips
Donut Fries
Warm Cookies
The Donut Fries? "They were good but need a dipping sauce," wrote rsoxgal36. Pretzel Bites? "Great." And the Waffle Breaded Chicken Strips? "Greasy and gross and soggy."
Apparently, the Donut Fries have been on the market since late March as YouTuber Uncle Morty posted an "unbiased taste-test" of the churro-like snacks on 3/22. Check out the review below, and let us know if you find some Donut Fries!
UPDATE
Statement from Dunkin' Donuts: As part of Dunkin' Donuts' ongoing commitment to menu innovation and meeting the needs of on-the-go guests, the brand is now testing a new $2 snacking menu at a small number of its restaurants in the Boston market, including 265 Franklin Street (Boston), 100 Harborside Drive (Logan Airport) and 588 Washington Street (Quincy). The snacking menu features several new sweet and savory items that pair perfectly with Dunkin' Donuts' signature beverages and are ideal for an energizing afternoon break. The test is designed to gather valuable feedback from consumers, franchisees and their employees to help inform future decisions about a possible national rollout.